Course details
【Lunch Menu】 Tropoan Lunch 2980 yen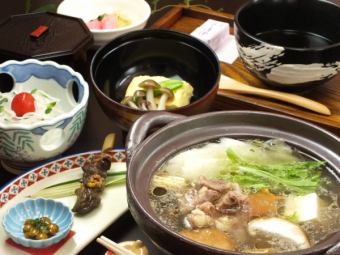 2980 yen
The price shown is not included.
Available days for reservation

Monday · Tues · Thurday ~ Sunday / Public Holidays · Holidays
Lunch time at reasonable prices with turpentine cuisine known for high-quality ingredients.Serve in one lump pot individually.The Tuppon used is a domestic product.Soup boasted for a long time cooked has no habit, and customers who say it is the first time surely can satisfy you.※ 11: It will be accepted from 30 ~ 14: 00.
Course menu
【Day Menu】 ※ 11: It will be accepted from 30 to 14: 00.
◆ salad
Delicacy
◆ bowl product
◆ pot
◆ rice
◆ pickles
◆ Freshly ground coffee
Japanese confectionery
It is a food ingredient loved for a long time.
Akashi club 's supanpan is delicious until soup and can be drunk.
Plenty of collagen with the original taste ◎
Beauty effect is outstanding.
Since we are using carefully selected domestically produced suppuku, you can enjoy it from beginners.
2018/11/13 update